Nacho Chips - Homemade Nachos - Corn Tortilla Chips - Makki ke Chips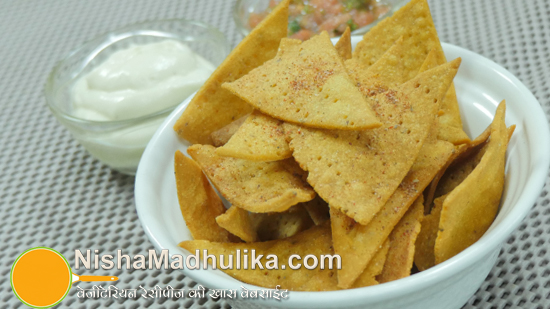 Different in taste and crispy cornmeal can be prepared at home very easily. These chips famous with the name of nachos are favorite of kids and youngsters. 
हिन्दी में पढिये : Nacho Chips - Homemade Nachos - Corn Tortilla Chips - Makki ke Chips
Ingredients for Corn Tortilla Chips
Cornmeal - 1 cup ( 150 gms)
Wheat flour- 1/2 cup ( 75 gms)
Oil - 2 tbsp
Salt - 1/2 tsp
Turmeric Powder- 1/4 tsp
Carom Seeds- 1/4 tsp
Oil- For frying
How to make Nacho Chips
Knead stiff dough
Take cornmeal and wheat flour in a mixing bowl and to it add salt, turmeric powder, carom seeds and oil. Mix everything really well. Now with help of lukewarm water knead stiff and tight dough. Cover and keep the dough aside for 10 to 15 minutes to set. For this much dough 3/4 cup of water is used.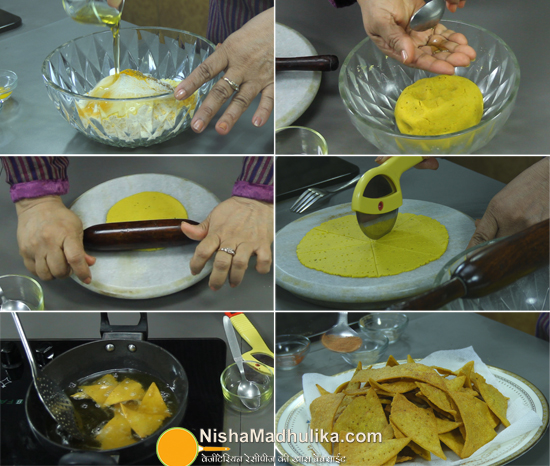 Roll out round sheet
Grease your hands with some oil and knead the dough again. Make small lumps from the dough. Take one lump and roll giving it a round shape. Flatten a little and place it over the rolling board. Roll out thinly like a chapatti. If the sheet stick to the board then you can rotate the board.
Cut the nachos chips
After rolling out the poori, prick it with help of a fork. Now cut it from the center making two equal halves. Again cut these two halves further into two halves and again repeat the process. With this you will get cone shaped chips.
Fry the nachos
Heat enough oil in a wok. Fry the nachos when the oil is medium hot. Check if the oil is rightly heated. For this, bring your hand over the wok and you will feel the warmth. After this, very cautiously lift the chips and drop them into the wok. Fry until they get golden brown in color. 
Meanwhile prepare chips from the other dough balls as well. When the chips get golden brown from beneath, flip the side and continue frying from the other side as well. Drain them out on a plate covered with napkin paper. Likewise fry rest of the nachos chips as well. It takes 5 minutes for frying nachos chips at once. 
Less spicy and tasty nachos chips are ready. For making spicier nacho chips, take 1/2 tsp salt, 1/2 tsp red chilly powder, 1/2 tsp mango powder and 1/4 tsp black pepper powder and mix everything really well. Sprinkle this prepared masala over the chips and mix well. 
Crispy and spicy nachos chips are ready. Serve them with salsa, mayonnaise, cheese dip or any other dip as per your preference. 
Suggestion
Make sure that the dough is not too stiff or too soft. 
Roll out the poori little thin for making the chips.
Fry the chips on slightly heated oil and on low flame. 
You can also sprinkle chaat masala over these chips. 
Nacho Chips - Homemade Nachos - Corn Tortilla Chips - Makki ke Chips
Tags
Categories
Nacho Chips - Homemade Nachos - Corn Tortilla Chips - Makki ke Chips
Nisha Madhulika
Rating:

5.00

out of

5