Matar Masala Mathri Crispy - Nimki with Green Peas - Khasta Matar Mathri Namkeen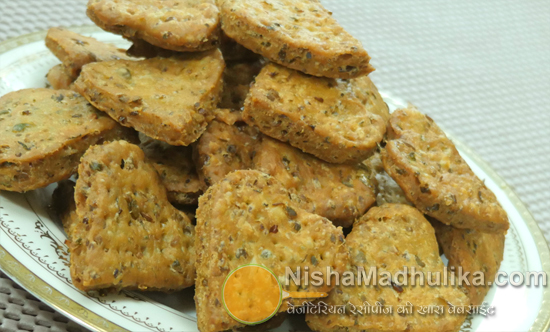 Different in taste and crunchy to eat this green peas mathri makes a perfect and super scrumptious snack.
हिन्दी में पढिये : Matar Masala Mathri Crispy - Khasta Matar Mathri Namkeen
Ingredients for Khasta Matar Mathri Namkeen
Green peas - 1 cup
Green chili - 4
Refined flour - 1.5 cups
Green coriander - 2 tbsp (finely chopped)
Black pepper - 1/2 tsp (coarsely ground)
Cumin seeds - 1/2 tsp
Carom seeds - 1/4 tsp
Salt - 3/4 tsp or to taste
Oil - 1/4 cup (moe) + for frying.
How to make Nimki with Green Peas
Coarsely ground green peas and green chilies in a mixer jar.
Knead stiff dough
Take refined flour in a big bowl and to it mix coarsely ground peas, chilies, green coriander, black pepper, cumin seeds, carom seeds and salt. Also add 1/4 cup oil to it and mix everything really well. Cover and keep the dough aside for 15 to 20 minutes.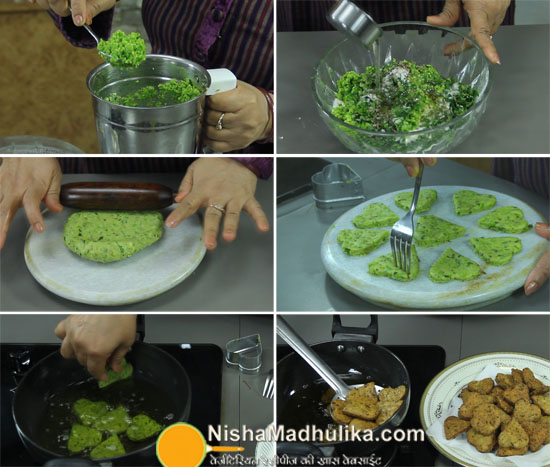 Roll out the mathris
20 minutes are over and the dough is ready. Grease your hands with some oil and knead the dough again. Now divide the dough into two equal parts. Take one part and roll giving it a round shape. Roll it out keeping it little thick like a parantha.
Shape the mathris
To give heart shape to these mathris, take cutter and place it over the rolled sheet. Now press it down to cut out heart shape. Remove the extra dough and roll it again into the round dough ball.
After cutting out the mathris, prick them with a fork so that the mathris come out crunchy and don't puff up. Take them out in a plate.
Fry the mathris
Heat enough oil in a wok. Similarly prepare mathris from the remaining dough as well.
To check if the oil is heated sufficiently, take your palm over the wok and you'll feel the warmth from it. Oil is rightly hot, gently slide one mathri into it. The mathri is frying gradually, so now slide as many mathris as possible in to the wok to fry. Keep the flame low and when the mathris float on the surface, flip the sides. Continue frying until they get golden brown in color from all sides.
Drain out the fried mathris using a ladle on a plate covered with absorbent paper. Hold the ladle diagonally on the edge of the wok so that extra oil drain back to it. It takes 10 to 11 minutes for frying mathris at once.
After preparing the mathris, use the left over dough for making round mathri and prick it with fork. Fry until golden brown. With this much dough 35 mathris can be prepared.
Green peas masala mathri is ready. These crispy and delectable mathris can be served with tea or coffee or have them as a light snack anytime of the day. Let the mathris cool down and then store them in a container and relish eating for up to a month.
Suggestions
You can use 1 to 2 tsp water for kneading the dough, if required.
Knead really stiff dough as only then mathris will come out crispy.
Fry the mathris on low flame until golden brown.
You can also prepare simple mathris. For this make small lumps, roll them out little thick, prick with fork and then deep fry until golden brown.
Matar Masala Mathri Crispy - Nimki with Green Peas - Khasta Matar Mathri Namkeen
Tags
Categories
Matar Masala Mathri Crispy - Nimki with Green Peas - Khasta Matar Mathri Namkeen
Nisha Madhulika
Rating:

5.00

out of

5