Nariyal Pag Recipe (Coconut sweet dish)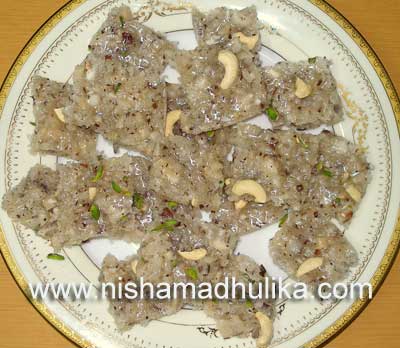 Nariyal ka Pag (Coconut sweet dish) is a popular sweet dish of North India. Nariyal ka pag is very delicious and doesn't require any ghee; however lot of sugar is used. If you are not restricted to sugar, you can make and eat the coconut sweet. let's prepare the coconut sweet dish.
इस पोस्ट को हिन्दी में पढ़ें-
नारियल पाग
Ingredients for Nariyal Pag Recipe
Coconut - 250 gm
Sugar - 350 gm
Cashew Nuts - 8 to 10 (Cut Cashew Nuts in two pieces each)
Milk - 1 table spoon
Water - 125 gm
How to cook Coconut sweet dish
Grate the coconut. Put water and sugar in the frying pan and heat it (For the preparation of sugar's syrup). stir the syrup in intervals of 2 to 3 minutes. When the syrup starts boiling, add milk to it. Now you will see that certain type of wastage foams are siding in the frying pan. Take them out by a serving spoon, so that the syrup becomes clean and transparent. Take out one drop of syrup on the plate for testing. You can put the drop between the finger tips and pressurize it to test the thickness of the syrup. It should look like two wires and after cooling it will become solid.
Mix grated coconut in the syrup by a serving spoon.
Put ghee on a big plate to make it oily, now take out the mixed coconut syrup on the plate and spread it. Garnish it with the cashew nuts. Let's cool it till it becomes hard. Now let's cut it into square sized pieces by knife.
Now Nariyal Ka Pag (coconut sweet dish) is ready, you can eat it now and also it can be stored in an air-tight container for up to 2 months.
Nariyal Pag in Hindi Video in Hindi
Tags
Categories
Nariyal Pag Recipe (Coconut sweet dish)
Nisha Madhulika
Rating:

5.00

out of

5