Gobi Ka Achaar - Cauliflower pickle recipe - Pickle Gobhi Achar

Cauliflower pickle prepared during winters is really spicy and tangy to eat. The taste of this pickle where florets are blanched and mixed together with few desi spices and mustard oil is a surely liked by everyone. Having poori, paranthas or chapatti with pickle only and without any sabzi is a different experience.
हिन्दी में पढिये : - Gobi Ka Achaar - Cauliflower pickle recipe - Pickle Gobhi Achar Recipe In English
Ingredients for Cauliflower pickle recipe
Cauliflower – 1 (750 grams)
Salt – 2 tsp
Mustard oil – ½ cup (100 grams)
White vinegar – 2 tbsp
Salt – 2 tsp
Mustard powder – 2 tsp (coarsely ground)
Fennel seeds – 2 tsp (coarsely ground)
Asafoetida – 1 pinch
Turmeric powder – 1 tsp
Red chili powder – 1 tsp
Fenugreek powder – 1 tsp (coarsely ground)
How to make Pickle Gobhi Achar
Floret the Cauliflower
Floret the cauliflower for making the pickle first. For this, remove the stalk and make small size florets from the cauliflower.
Drench Florets in Salt mixed water
Take a big mixing bowl and add this much quantity of water that the florets are drenched well. Mix 2 tsp salt in to the water. Drop the florets in this water and let them remain drenched for 10 minutes.
After 10 minutes, drain the florets from water and rinse them well with plain water.
Blanch the florets
To blanch, heat enough water in a vessel. When the water starts simmering, drop the florets into it. Cover and let them simmer for 3 minutes.
After 3 minutes, turn off the flame. Drain out the florets in a sieve placed above a vessel so that extra water drains out to it.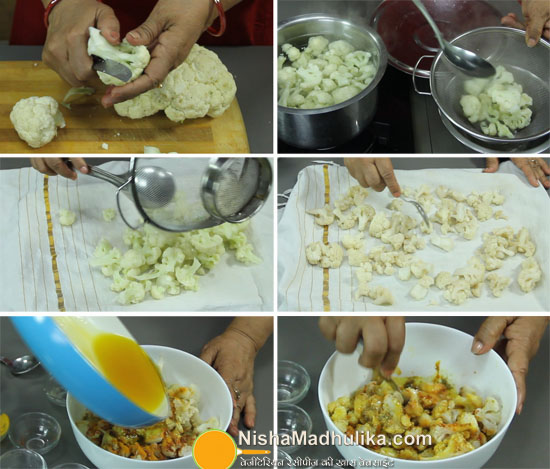 Dry the Florets
Spread a clean cotton cloth over a try and spread out the florets over it. Keep them under sunlight for 2 hours.
Once the florets are dried well, start with making the pickle. For this, heat some mustard oil in a wok and on the other side take a bowl and drop the florets to it. When the oil reaches smoky point turn off the flame and let it cool down a little.
Mix spices to the florets
Add salt, coarsely ground mustard powder, coarsely ground fennel seeds, coarsely ground fenugreek seeds, red chilly powder, turmeric powder, asafoetifa and vinegar. After mixing all the spices, pour the mustard oil to it and now mix everything really well.
Yummy and super tempting tangy cauliflower pickle is now ready. You can have it anytime but the real taste comes after three days when all the spices are absorbed by the cauliflower florets. Store the pickle in air tight container and stir after every two days.
Suggestions
Florets are added in salt mixed water so that it is cleaned well and all the bacteria dies.
Mustard oil is heated to reduce the spiciness in it. You can also add it directly.
Vinegar increases the taste of pickle and also increase the shelf life.
Whenever you take out the pickle use a clean and dry spoon. Sterilize the container well prior storing pickle in it. Make sure there is no moisture in the container.
Gobi Ka Achaar - Cauliflower pickle recipe - Pickle Gobhi Achar
Tags
Categories
Gobi Ka Achaar - Cauliflower pickle recipe - Pickle Gobhi Achar
Nisha Madhulika
Rating:

5.00

out of

5