Palak Vada Recipe - Dal Vada Recipe with Spinach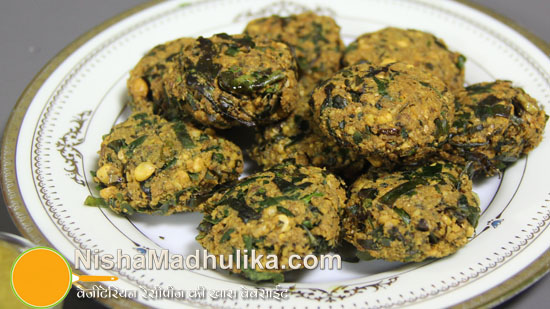 Spinach, loaded with Iron is used for many numerous dishes. Very delectable and toothsome snack, palak vada can also be prepared with it. Spinach leaves and some spices mixed in the chickpea batter and then deep fried to make the vadas. Have these crispy and scrumptious vadas as a light snack and making them is really easy.
Read - Palak Vada Recipe - Dal Vada Recipe with Spinach Recipe In English
Ingredients for Dal Vada Recipe with Spinach
Chana dal - 1/2 cup (100 grams)
Spinach - 1 cup (100 grams)
Green chilly - 2 (finely chopped)
Ginger - 1 inch baton (grated)
Coriander powder - 1 tsp
Salt - 3/4 tsp or to taste
Cumin seeds - 1/2 tsp
Dry fenugreek leaves - 1 tbsp
Red chilly powder - 1/4 tsp
Oil - for frying
How to make Palak Vada Recipe
Rinse the dal for making vadas. Soak the dal for 6 to 7 hours. Meanwhile remove thick stalk from the leaves of spinach and rinse them thoroughly as well. Then let them dry well.
After this, finely chop the leaves. For this, place the leaves over chopping board and cut into half from the center. Gather all the leaves again and make a bunch. Further chop down the leaves finely.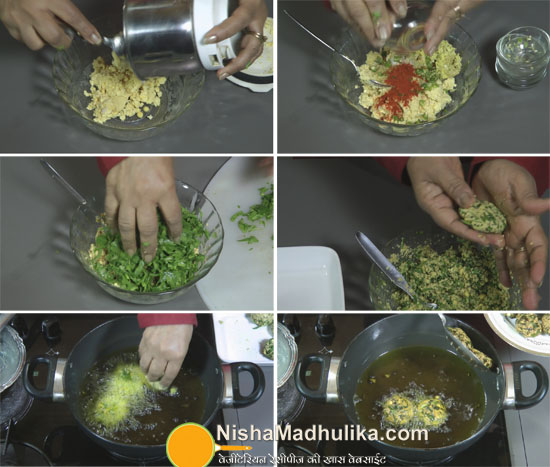 Prepare the mixture 
Now grind the chana dal. Place the dal in a mixer jar and then coarsely ground the dal. Transfer the ground dal into a bowl. Now mix cumin, salt, coriander powder, ginger paste, green chilly, red chilly powder and dry fenugreek leaves to the batter. Mix everything really well. Now mix chopped spinach to this mixture and mix well. 
Prepare the vadas
Now start making the vadas. For this, heat enough oil in a wok. Make small lump from the prepared mixture and roll giving it a round shape like a vada. Similarly prepare 4 to 5 more vadas.
Fry the vadas
Reduce the flame when the oil is sufficiently hot and gently drop vadas into it one by one. Flip the sides and continue frying until they turn golden brown in color from all sides. Meanwhile prepare more vadas from the remaining batter as well. 
When the vadas turn golden brown, drain them out in a plate and similarly prepare rest of the vadas as well. Drain out these vadas as well when fried aptly and turn off the flame. 
Scrumptious spinach vada are ready. Serve them piping hot with chilly sauce, green coriander chutney, tomato sauce and relish eating.
Suggestion
If dry fenugreek leaves are not available then you can use green coriander or 1 pinch asafoetida. 
You can use any cooking oil for frying the vadas.
Palak Vada Recipe - Dal Vada Recipe with Spinach
Tags
Categories
Palak Vada Recipe - Dal Vada Recipe with Spinach
Nisha Madhulika
Rating:

5.00

out of

5