Matar Kachori Khasta Recipe - Green Peas Stuffed Layered Kachori - Matar Ki Kachori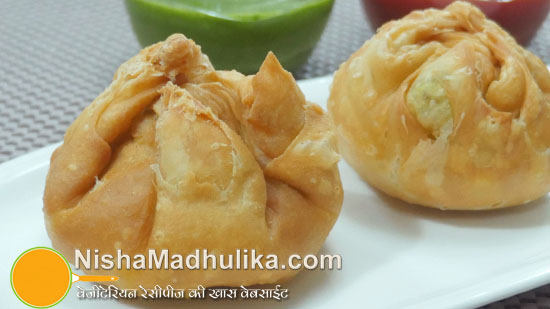 If bored from same crusty kachoris then try out preparing this new peas layered kachori. This layered kachori stuffed with peas and spicy stuffing you will experience new taste. 
हिन्दी में पढिये : Matar Kachori Khasta Recipe - Green Peas Stuffed Layered Kachori 
Ingredients for Matar Kachori Khasta Recipe
Refined flour - 2 cups
Frozen peas - 1.5 cups
Ghee - 4 tbsp
Salt - 1 tsp
Asafoetida - 1 pinch
Cumin powder - 1/2 tsp
Turmeric powder - 1/4 tsp
Green chilly - 2 to 3 (finely chopped)
Ginger paste - 1 tsp
Coriander powder - 1 tsp
Fennel powder - 1 tsp
Mango powder - 1/2 tsp
Red chilly powder - 1/4 tsp
Garam masala - 1/4 tsp
Oil - for frying
How to make Green Peas Stuffed Layered Kachori
Knead the dough
For making lachha kachoris, start with kneading refined flour. For this take, refined flour in a big mixing bowl an mix 2 tsp ghee and 1/2 tsp salt to it. Mix well and add water in small portions to knead soft dough. Knead little stiff dough than required for making paranthas. For kneading this much quantity of dough we have used more than 1/2 cup of water. Cover and keep the dough aside for 15 to 20 minutes to set.
Prepare the stuffing
For preparing the stuffing, heat a pan and add 2 tbsp oil into it. Let the oil heat sufficiently and then add asafoetida, cumin powder and turmeric powder to it. Reduce the flame to prevent the browning of spices. Now ad chopped green chilly, coriander powder and fennel powder and saute the spices for a while.
Add green peas to the masala and saute for a while. Then add mango powder, red chilly power, garam masala and 1/2 tsp salt or to taste. Mix everything really well and saute the masala for a while. Cover and let the peas cook for 2 to 3 minutes until they get tender.
After 3 minutes, press the peas to check if turned tender. Now mash the peas using a spoon. Stuffing is now ready, turn off the flame and transfer it to a plate.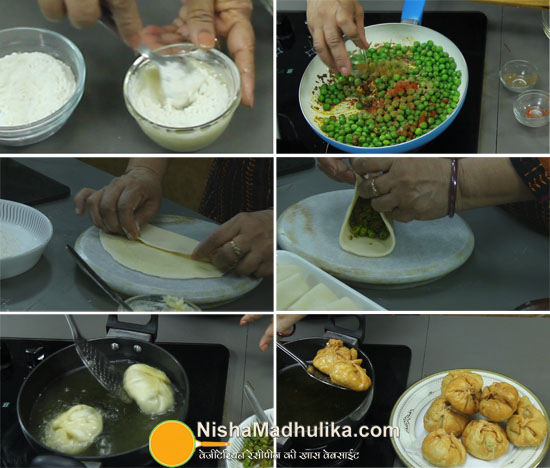 Prepare Dough balls
20 minutes are done and the dough is ready. Knead the dough for a while to smooth it out. For making dough ball, divide it into 2 parts and further prepare small lumps from it. Roll out the lumps giving them round shape. 
Mix 4 tsp refined flour in remaining 3 tbsp ghee and mix it well until they blend well. Ghee-flour mix is ready.
Stuff the kachoris
Start rolling out dough balls for making sheets. Take one dough ball, dust it with some dry flour and roll out into thin round roti. If the dough ball sticks to the rolling board then dust it again with dry refined flour.
After rolling out the dough ball, spread some ghee-maida mix over it evenly. Now fold it into 3 layers. Again spread some ghee-maida mix over it evenly and fold again. With this you will get a square shaped sheet. Likewise prepare square shaped sheet with remaining dough balls as well. We will get layered kachoris with this. Keep the square shaped sheets as it is for 10 to 15 minutes.
After 15 minutes, take one dough ball, place it in rolling board and roll out into square shape. Place 2 to 3 tsp stuffing over it and bring the corners together. Now, stick the third corner as well to these corners. Stick the fourth corner to these as well. With this stick all the corners together. Now lift two corners and stick them together and similarly stick the remaining corners as well. Fold all the corners in the center. We are done with stuffing the kachori. Similarly stuff rest as well.
Fry the kachoris
Heat enough oil in a wok. Check if the oil is sufficiently hot. For this, drop little dough ball in the oil, it will start floating on the surface gradually. Oil for frying kachoris should be medium hot. Now keep the flame medium and gently drop kachoris in the oil for frying. Fry the kachoris on low flame until they get golden brown in color. When the kachoris float on the surface, flip the sides and continue frying from the other side as well. 
When the kachoris are fried well, drain it out over a plate. Hold the kachoris on the side of the wok so that excess oil drains back to it. Similarly, fry rest of the kachoris as well. It takes 15 minutes to fry kachoris at once. With this much quantity of dough 10 kachoris can be prepared.
Delicious and tempting crispy peas stuffed layered kachoris are ready. Serve them steaming hot with tomato ketchup, green coriander chutney or any other dip as per your desire and relish eating.
Suggestions:
If cumin powder is not available then coarsely ground cumin seeds can be used. 
Fresh peas can also be used if frozen peas are not available.
You can keep the size of kachoris big or small as per your desire. 
Make sure while rolling out the dough ball it is kept thick in the center and thin on the edges. 
While stuffing the kachoris, make sure you close the corners well so that stuffing doesn't spills out. 
Fry the kachoris on low medium oil on low flame.
Matar Kachori Khasta Recipe - Green Peas Stuffed Layered Kachori - Matar Ki Kachori
Tags
Categories
Matar Kachori Khasta Recipe - Green Peas Stuffed Layered Kachori - Matar Ki Kachori
Nisha Madhulika
Rating:

5.00

out of

5