Prasad Boondi Recipe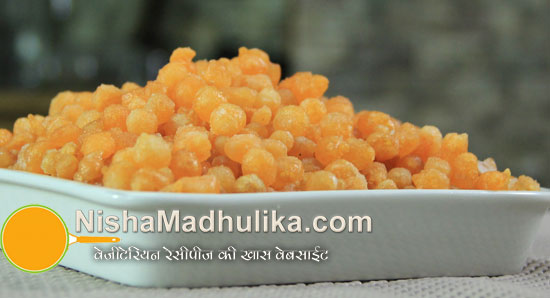 The boondi offered as prasad is little bigger in size as compared to boondi prepared gram flour and taste different as well. These are also known as Gondi. This is offered as prasad to Lord Hanuman, every Tuesday. You can very easily prepare this at your home as well.
हिन्दी में पढिये : Prasad Boondi Recipe
Ingredients for Prasad Boondi Recipe
Refined flour – 1 cup (150 grams)
Urad dal – ¼ cup (50 grams) (soaked)
Red food color – ½ pinch
Baking powder – ½ tsp
Sugar – 3 cup (750 grams)
Cardamom powder- ½ tsp
Oil – for frying
How to make Boondi Prasad
Start with preparing the syrup for boondi. For this, take any vessel and add 3 cups of sugar and 1 cup water. Let it simmer on low flame until the sugar dissolves completely. Now prepare the batter for making boondi. Clean the husked urad dal and rinse with water. Soak it for 2 hours and the drain out the excess water.
Place the soaked dal in mixture jar, add some water and grind it finely.
Take refined flour in a mixing bowl and add baking powder and ½ pinch red food color into it. Now add water in small portions and stir until all lumps dissolve. Prepare a smooth batter.
When the batter is prepared, add ground dal into it and mix really well.
Check the syrup now. If you see formation of one thread in the syrup, then the syrup is ready. Turn off the flame and mix cardamom powder into it.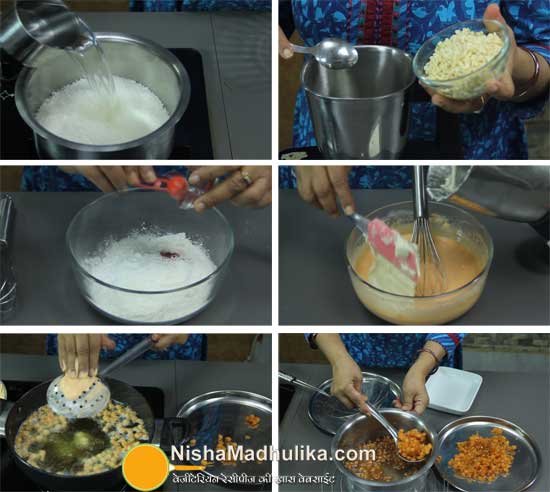 Heat enough oil in a wok. When the oil is heated well, then fry the boondi. Take slotted ladle and flip it upside down. Bring it over the oil with and hold in your left hand, keeping it away from the wok. Pour some boondi batter over it and press with your hands to make boondi. The batter will pass through the slotted ladle to the oil and starts floating on the surface. Place as much boondi as possible in the wok at once and deep fry until golden brown in color. Keep tossing and flipping the sides.
Drain out the fried boondi in a big net basket to remove excess oil and then add it to the syrup. Let it drench in syrup for 1 to 2 minutes and meanwhile prepare the rest. Now drain out the boondi soaked in syrup in a separate plate. Soak the rest boondi in the syrup. Similarly prepare boondi from the entire batter. Delicious sweet Prasad boondi is ready.
Suggestions:
The batter for boondi should not be too thin or too thick in consistency. Keep the consistency of batter correct.
Make sure that the oil for frying the boondi is sufficiently hot else the boondi will stick to each other.
After draining out the boondi from syrup, keep stirring it at regular intervals so that it doesn't stick to each other. Keep separating out the boondi.
Make sure you clean the ladle used for making the boondi every time prior making the other slot. The holed on the ladle should be clean.
For 1.25 grams of boondi
Time – 60 minutes
Tags
Categories
Prasad Boondi Recipe
Nisha Madhulika
Rating:

5.00

out of

5