Broccoli Soup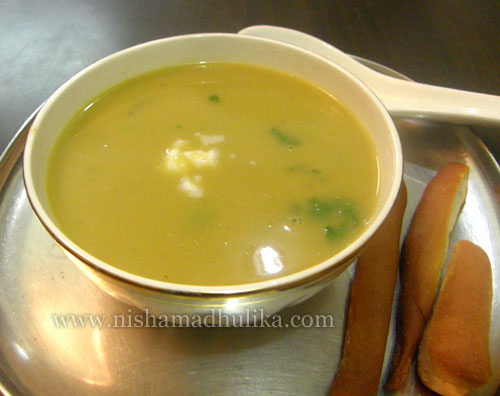 Broccoli soup can be prepared in many different ways. Broccoli soup made with white vegetable stock is easy to make and you will enjoy drinking it.
- Ingredients for Broccoli Soup

Broccoli - 300 grams (1 floret of broccoli)
Tomatoes - 150 grams ( 3 medium sized)
Potatoes - 150 grams (2)
Ginger - 1 inch long piece
Black pepper - 7 to 8
Clove - 4
Cinnamon - 1 piece
Salt - add to taste (1 tsp)
Butter - 1 1/2 tbsp
Green coriander(dhaniya) - 1/2 tbsp (finely chopped)
- How to make Broccoli Soup
Break broccoli into pieces and wash them. Take water in a utensil enough to submerge the broccoli pieces then heat it. Once the water comes to boil put the pieces in it and cover with a lid, turn off the gas after 2 minutes. Keep the broccoli covered for another 5 minutes.
Wash tomatoes then cut them into big pieces. Peel the potatoes and cut them into thin strips. Peel the stems of the broccoli and cut them into pieces. Peel ginger and cut into small pieces.



Put 1 tbsp butter in another utensil and heat. Put black pepper, cloves and cinnamon in butter then gently fry them. Put in the potato, broccoli pieces and mix then add some water. Cover the utensil and cook. Open the lid after 6-7 minutes and check if the potatoes have turned soft, if not then cover and cook for another 2-3 minutes. Turn off the gas. After this soft potato-tomato masala cools put it in a mixer with half boiled broccoli to make a fine paste.
Put the paste in the utensil used for broccoli, add 4 cups water and salt to taste. After the soup comes to boil, let it boil for 3-4 minutes. Turn off the gas.
Broccoli soup is ready, put chopped coriander in it and mix. Pour steaming hot Broccoli Soup in a bowl add a little butter, serve and drink.
Serves - 4 
Cooking Time - 30 minutes
Tags
Categories
Broccoli Soup
Nisha Madhulika
Rating:

5.00

out of

5